Stemware Storage



---
---
Stemware Storage, whether you have very expensive crystal or glass, you are going to want to store them properly.  Keeping them safe from chips and cracking.
  You've just arrived home from your honeymoon to be overwhelmed by all of your crystal stemware staring back at you.  You haven't decided yet where they will be placed, but you do know that they will need some kind of storage container.
  There are several options for your Stemware Storage, choosing the right one takes some thought.
Do you want to showcase your crystal?  Or perhaps you want to hang them up for easy access.
  Those options are available to you as well as cabinets with glass doors to house your crystal behind, and of course there is the ever present zippered storage container that has been around for many years now, any one of them would be a very good idea. 
Choosing the right one will make all the difference.  Let's take a look at each one of them, that way you can choose what is right for you. 
---
The Zipper Storage Container
There is a reason this product is still on the market today, it works.  They come in a variety of sizes from six packs up to a dozen holders for your finest crystal. 
They are very sturdy. Made from rigid materials and separated into individual containers that are lined in padding, the bases are very sturdy as well.
  Once they are zippered shut, no dust will ever get in.  Some come with see through compartments making it easy to see what's inside.
  Once you have your crystal stored, keep it out of high temperatures, Stemware Storage containers should not be stacked higher than four, this option is great for long term storage.
The Closed Storage Cabinet
This is something to consider if you use your glassware a great deal.  The cabinet sometimes comes as a rolling bar.
  The inside either has shelving or slotted holders for your stemware.  Make sure if this is something you will be using, that you have enough room for your glasses. 
Sometimes these cabinets do not hold many glasses, and that will require you to use the Stemware Storage containers for the rest of your pieces.
There is usually storage for wine and liquor, along with all of the accrutements that comes with, like napkins, bottle openers, etc.
You should also consider if the cabinet just has slotted holders, this kind of holder can cause damage to your stemware by chipping and cracking as you roll it around.  One other thing to consider, if you have small children, get a cabinet that locks.
Stemware Racks
Although these are a very good idea, you will not want to place them in your kitchen area. 
You do not want to reach for a glass and then find it is filthy, from the dust and grease that float around in this room.  If you have a closed space like a closet that can handle the racks, you will be much happier when you go to reach for a glass and find that it is clean and ready to use.
  You may have a wine room that can handle this kind of holder. If you choose to have racks made for you, then make sure they are the right size, and that they are placed out of the light. 
Stemware Storage is best kept in the dark, so to speak.  If you have antique stemware, you know not to store them in direct sunlight; old glass has manganese in it and when exposed to direct sunlight will change its color to a purple hue.
  The best storage for your antique pieces is going to be in a zippered storage container.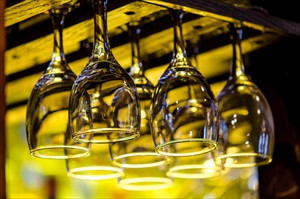 Some Other Thoughts
Before using any Stemware Storage containers, get the dimensions of your stemware before purchasing so that they will fit properly.
Think about the temperature that you store them at also. You should ideally store at the temperature that you will be using them in.  Extreme temperature change can cause great damage to your stemware.
If you must store them out on a shelf, then be sure to rotate them once in a while, by this I mean turn them upside down and vice versa every so often.  This will help to keep them from getting any odors attached. You can do what the bars do and that is get plastic mesh that the stemware can rest upon, this will help to keep them in place, and all you need do is remove the mesh once in a while and wash them.
Do not place your stemware into the dishwasher to clean, the temperatures can cause damage, and they can move around and cause cracks and chips.
Watch this video on how to clean your stemware.
Useful Resources
Stemware Storage , Identify your stemware, book #30 in our library

house cleaning guide / contact us / legal disclaimer / privacy policy /site map /