Weekly Checklist
For House Cleaning
---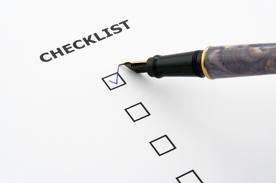 Weekly Checklist For House Cleaning:

Just what is a house cleaning list, and why do we need one. The reality is that we have so much going on in our lives today, that keeping track of everything we need to do is almost impossible.
So we make a list, and that seems to make it much easier on us. There is the house cleaning list, the repair and maintenance list. And a list for just about everything else you can think of. But we are here to talk about Weekly Checklist For House Cleaning . So let's get to it. Check out How To Clean A Room first.
---
WEEKLY CHECKLIST;

---
TRASH;
remove all of the trash from your home. Of course if you don't have a garbage disposal you may want to remove the trash at the end of every day
. When you're finished vacuum all of the hard surface floors. That means the entry, the kitchen, the bathroom, the laundry room, and any other hard surfaced floors you make part of your Weekly Checklist For House Cleaning.
DUST;
dust the entire home. Fill your bucket with some Lysol disinfectant, add your micro cloths, and go room by room through your home wiping absolutely everything you see.
Change out the bucket when necessary, and continue until finished.
CLEAN THE BATHROOM;
wash down the shower, the tub, the vanity including the mirror, the toilet, and then the floor.
Add your towels to the laundry and wash and dry them. If you have a carpet in here wash that also. Replace when finished.
This room is a must do on your Weekly Checklist For House Cleaning.
LAUNDRYR OOM;
keep adding loads and finish your laundry. Wipe down the machines when you're done and then Clean Tile Floor. Your machines may be running 24/7 depending on how many you're washing for. Whatever the case is, just keep going until you're done. I'm usually done in 3 to 4 loads.
I try to keep up during the week, by getting one or two loads in. It really helps when it comes to the weeks end.
FOYER;
make sure the floors are clear of all articles, like your shoes. You've wiped everything down as you went through the house dusting, so all you need do here is the windows and the floors. Great cleaning tips.
KITCHEN;
ill the sink with some hot water and some powdered detergent. Don't go crazy with the detergent a little goes a long way. Add your micro cloths and start by wiping down all of the top cabinets, including the pulls.
Wipe down the bottom cabinets and drawers, including the pulls.
Wipe down all of the appliances. The refrigerator, the stove top, the ovens, the microwave.
Wipe down the counter tops and everything you keep on them. This may include small appliances.
If you have a table and chairs in here, then wipe them down also. Remove the chairs, and fill a bucket with some warm water and some of the powdered detergent and wipe down the floor.
Return the chairs. Kitchen Cleanliness is a must do on your Weekly Checklist For House Cleaning.
HOUSEPLANTS;
remove all of the small ones to the kitchen and place in the sink and give them a good drink. If you feed them weekly do it now.
If you have trees that cannot be moved then get them watered now, before you do that give them a good shake to remove all of the dead leaves. Pick them up and put in the trash.All part of great home organization.
VACUUM;
start at the far end of the house. Or if you have two stories start upstairs and then work your way down room by room.
When your finished move on to any oriental that you may have in your home.
You really can be done in a couple of hours. Or if you're going to veg-out and watch TV, you can accomplish all of this by working through the commercials. I've done it that way many times.
---
After making a copy of the Weekly Checklist For House Cleaning , just tape it to the back of one of your cabinets, that way it is always there when you need to check on something specific. 
Of course you can always ask us a question.  If you do, it will be added to our journal page.
---
house cleaning guide / contact us / legal disclaimer / privacy policy /site map /