Deep Cleaning Checklist
---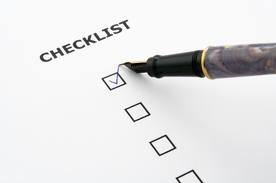 Your Deep Cleaning Checklist, is the Monthly list, and why do we need one. The reality is that we have so much going on in our lives today, that keeping track of everything we need to do is almost impossible.
So we make a list, and that seems to make it much easier on us.
There is the house cleaning list, the repair and maintenance list. And a list for just about everything else you can think of. But we are here to talk about the Deep Cleaning Checklist. Your monthly list. .

So let's get to it.
---
Monthly Checklist:

---
Windows

Once a month is a good regimen for the windows.
Here's how I do it. The windows are washed inside and out twice a year spring and fall.
In-between they are done monthly just the insides.
You can pull the screens out as needed to clean.as well as wiping the tracks.
Use a brush for them.
It goes much faster.
Spots

Removing spots from your walls and baseboards is an easy task.
using your sponge with scratch pad attached,
fill your bucket with some warm water add your sponge and after getting it wet, add some baking soda to the scratch side and remove the spots.
Rinse off when done.
Carpets And Upholstery

Check all of your upholstery for spots and spills.
If you need to remove some spots, then use a good fabric cleaner, just spray on the spot let stand for a while then scrub it clean. Or make your own.
Just take some warm water add some powdered detergent and mix it up until it looks like whip cream.
Add it to the spot and work it in until the cream removes it. Remove it, then use a dry towel to wick it the rest of the way. You will want to try a small area first.
If you can't get the spot out, you may need the services of a professional.
Carpeting: look for spots and traffic areas that may need some touch ups.
You can use a spray like woo lite carpet. It works great for small areas.
Just spray, work in with your fingers, let stand for a while.
Then go over the area with your vacuum. The spots should be gone, or much better. Of course if you need the professional to come in to get them cleaned then do it.
Or make this one of your yearly check list items. Both great Deep Cleaning Checklist tips.

Accent Pieces And Accessories

This includes the fine art on your walls, as well as all of your crystal pieces that are accents in your home. Dust your fine art with a very soft brush including the frames.
And wash the crystal pieces and return them to their rightful places.
If you have silver accents, then clean them now.
Anything that is used as an accent in your home clean it this includes your lighting. Get your lamps cleaned thoroughly. Another Deep Cleaning Checklist must do.

Cob Webs

Take your web brush and go over all of the ceiling edges and corners of the rooms as well as the baseboards.
Take some time to look for webs in recessed lighting if you have it.
Appliances

Clean the inside of your appliances.
Most ovens are self-cleaning today, so run the system to get them cleaned
here's a very helpful tip for your oven, place a sheet of aluminum under whatever you are cooking and it will save you a lot of energy
cleaning up later.. Wash down the inside of the refrigerator.
Use some warm water and a little bleach.
If you keep up during the week, this won't take but a few minutes to do. The inside of your microwave can be done by filling a bowl with some water and lemon juice.
Put on high for five minutes or until the water boils, let it stand for a while then wipe it down with a damp cloth.
Get the disposal cleaned also. Just fill the sink to the tope with water and some liquid detergent, pull the plug and turn it on as you run the water and work it all through the system.
When you're done fill the disposal with a couple of lemons, cutup, then fill the sink once again with water. Pull the plug turn on the water, and run the system until everything has run through. It should smell great.
Don't forget the dishwasher; give it a real good clean.
 Check the screen filter on the bottom and remove any food particles left there. Then add a cup of bleach and run the system. That will sanitize it.
Ceiling Fans

Get them dusted off, just take a damp towel and go over the blades.
Garage

P
ull the cars out and get it swept down. Anything that can be thrown out should be.
Garbage Containers

G
et them washed out. Of course lets not forget to feed our energy levels so that we can get the
Deep Cleaning Checklist t
completed.
---
AFTER YOU HAVE COPIED THE CHECKLIST, JUST TAPE IT TO THE BACKSIDE OF ONE OF YOUR CABINETS. THAT WAY IT IS ALWAYS AVAILABLE TO YOU. MAKE A COPY OF THE OTHERS WHEN YOU NEED THEM, AND OF COURSE ASK US A QUESTION AT ANYTIME.
---
house cleaning guide / contact us / legal disclaimer / privacy policy /site map /